The Lucid Design Store Project, Part 2: Gift Cards
The Lucid Design Store serves three main purposes: swag and gifts for Lucid team members; gifts for clients and partners; and an ecommerce store for the general public—more or less in that order.
I considered a number of different options for the gifting side of things.
While it's trivially simple to generate gift cards inside Shopify and send the codes by email, Slack, or whatever, it's not the best experience for the recipient.
For new team members, clients, and partners, I wanted to do something a little more tangible—more intentional.
I have also been wanting to kick the tires of the Shopify Hardware Store and test the ordering experience and the quality of the custom-printed gift cards. Because, who knows, it's very likely our clients might need to use this service at some point so it will be helpful to be able to share our experience.
Custom-printed gift cards from the Shopify Hardware Store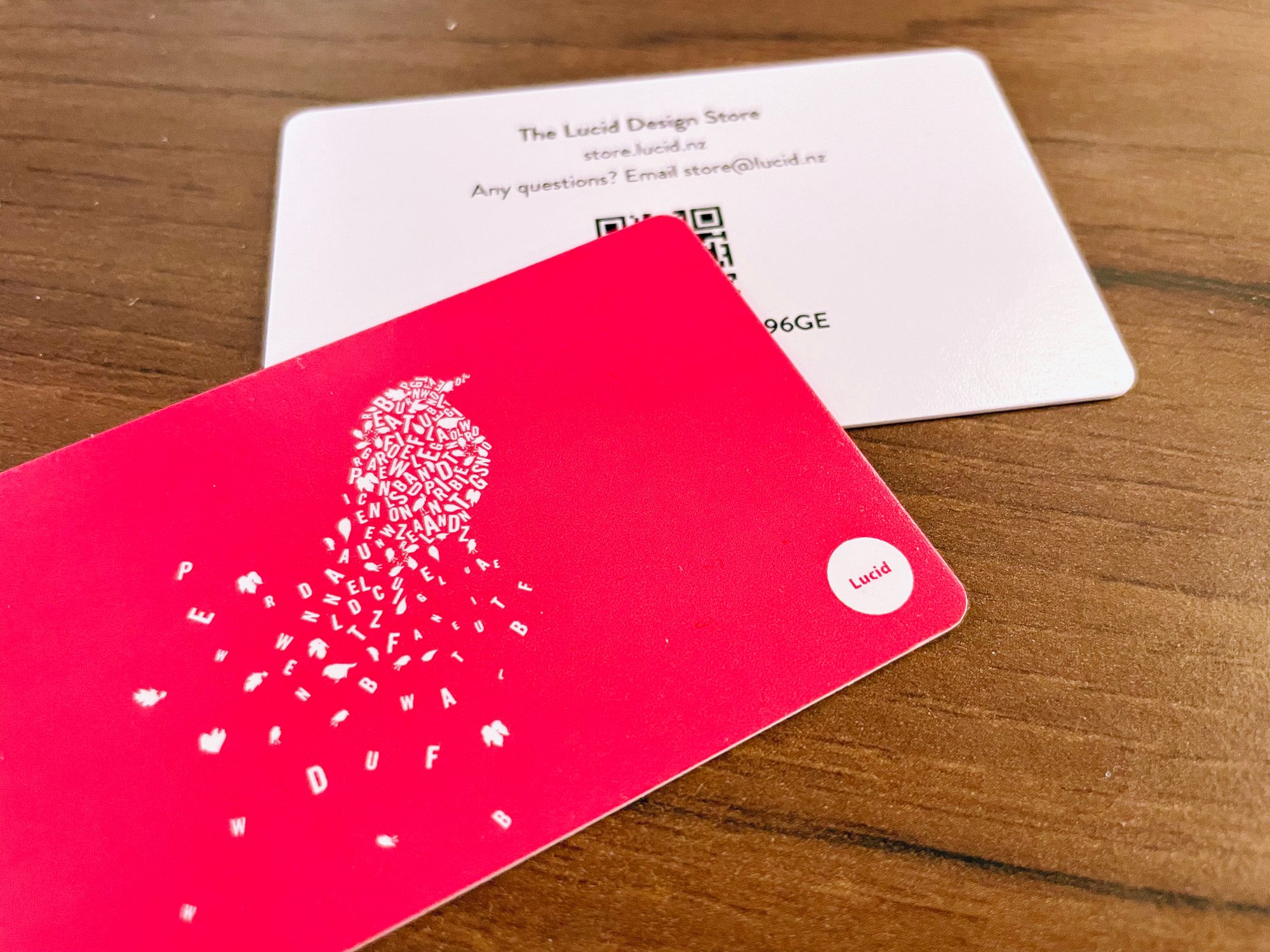 The ordering process is super simple. Design your artwork and upload it when placing the order.
Naturally, the Shopify Hardware Store uses Shopify so it's neat seeing how they have built the custom ordering workflow. It's very simple—no live previews or bells-and-whistles—but it works.
The production is clearly done in partnership with CardSource and the proof comes from them for final sign-off.
A couple weeks late, the cards arrived at our office.
I opted for the paper version as plastic seemed unnecessarily wasteful. The production quality is good and they're sturdy—feeling more like plastic than paper, actually. If I could have had an uncoated paper option with no gloss, I would have done that.
The biggest frustration I have is that it appears the QR code might be designed for in-store use with Shopify POS and not for the customer. This might be confusing—especially now that people are more used to using their cameras to scan QR codes. It doesn't actually link anywhere, which is disappointing. I do worry that the usability might be unintuitive and I wish I had added instructions as one of the 3 line items of text on the back.
I had thought the QR code might be important, which was part of the reason I went with Shopify Hardware Store for these.
I did also want to test the process but, for the next batch, I am going to experiment with generating my own numbers and printing with Moo instead.
Handwritten note cards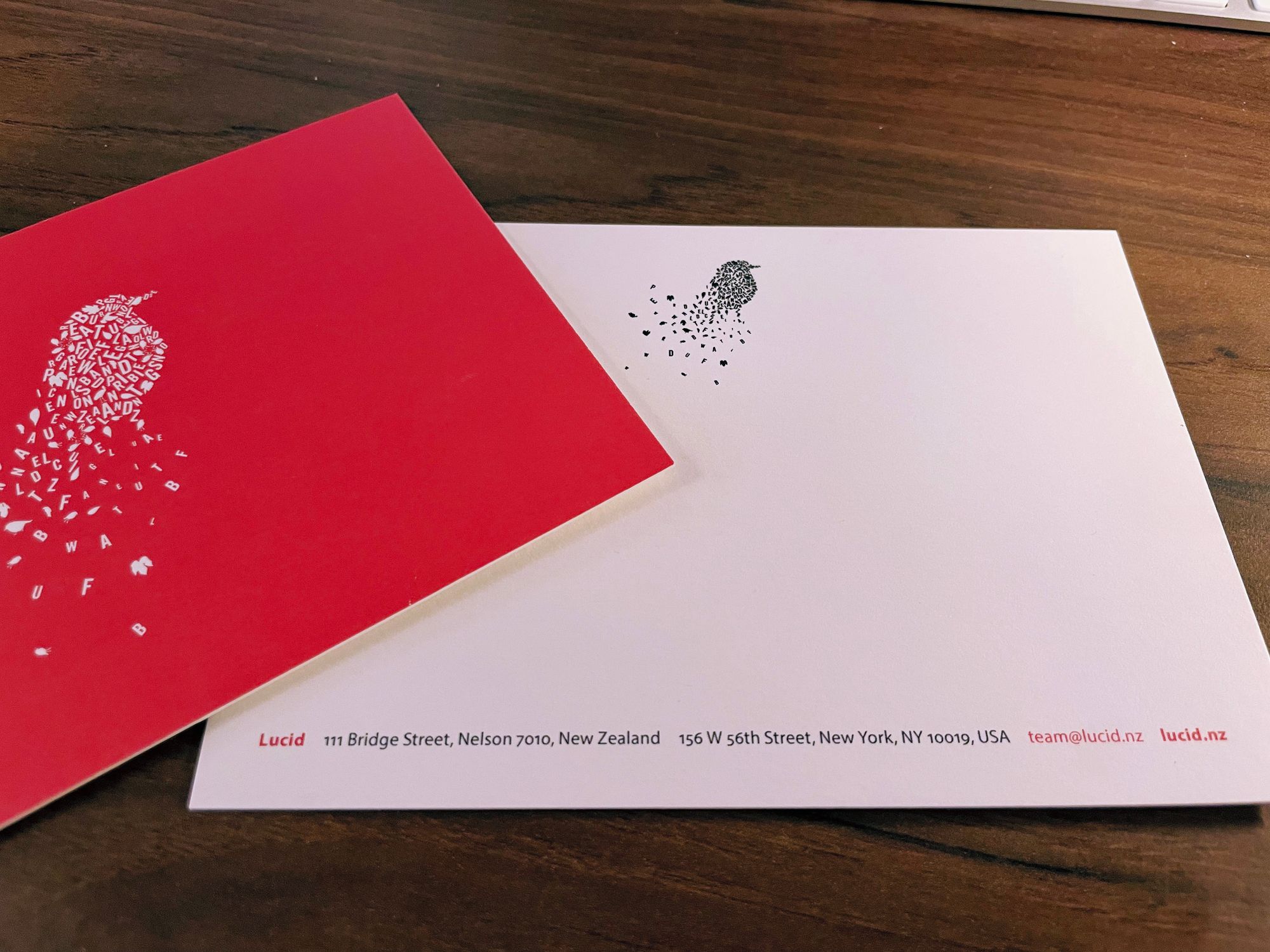 When we send the physical gift cards, we will likely include a handwritten note.
I already had these beautiful, thick, uncoated note cards from Moo that I have been using for years so they are the perfect companion for a little "welcome to the team" or "thank you for being a wonderful client" message.
The note cards from Moo come with their own envelope so it's perfect for sending the note along with a gift card.
Selling physical gift cards on our Shopify store
I haven't decided yet if I want to sell physical gift cards on the store.
It's a bit of a hassle and I am not sure if I would be able to stock the blank gift cards with ShipBob or how I would set that up. It is possible to sell serialized products with ShipBob so I will explore that and will report back.
One of the goals of The Lucid Design Store project is to test low-effort, highly-automated ecommerce management so I don't want to sell something I have to hand-pack and hand-ship as we don't have the resources for that at the moment.