The Lucid Design Store Project, Part 1
It's an ongoing experiment but Design Store is now live at https://store.lucid.nz!
It's something I have wanted to do for many years and we have, at various times, sold products on the Lucid website but we have never given it much attention. This time is a little different and I am hopeful it will grow as others on the Lucid team get behind it and get involved.
A little fun fact: The Shopify store we use was created in May 2006! That possibly makes it one of the first Shopify sites every created.
The primary purpose of this project is curiosity

I have dabbled with Shopify stores as side-projects over the years but I wanted to get a more hands-on feel for running a store properly—so I can learn but also so I can better empathize with our clients in my day-to-day work here at Lucid.
I love designing physical products and have for some time wanted to have something to give to new team members when they join Lucid—or to clients to acknowledge our appreciation. Rather than random, junky swag, I wanted to create items that have value in their own right—that are good enough to sell.
Time will tell how successful the selling part is—as I know very well that it takes marketing and devoted energy to grow an ecommerce business. This is definitely a secondary—if not tertiary—goal of this project.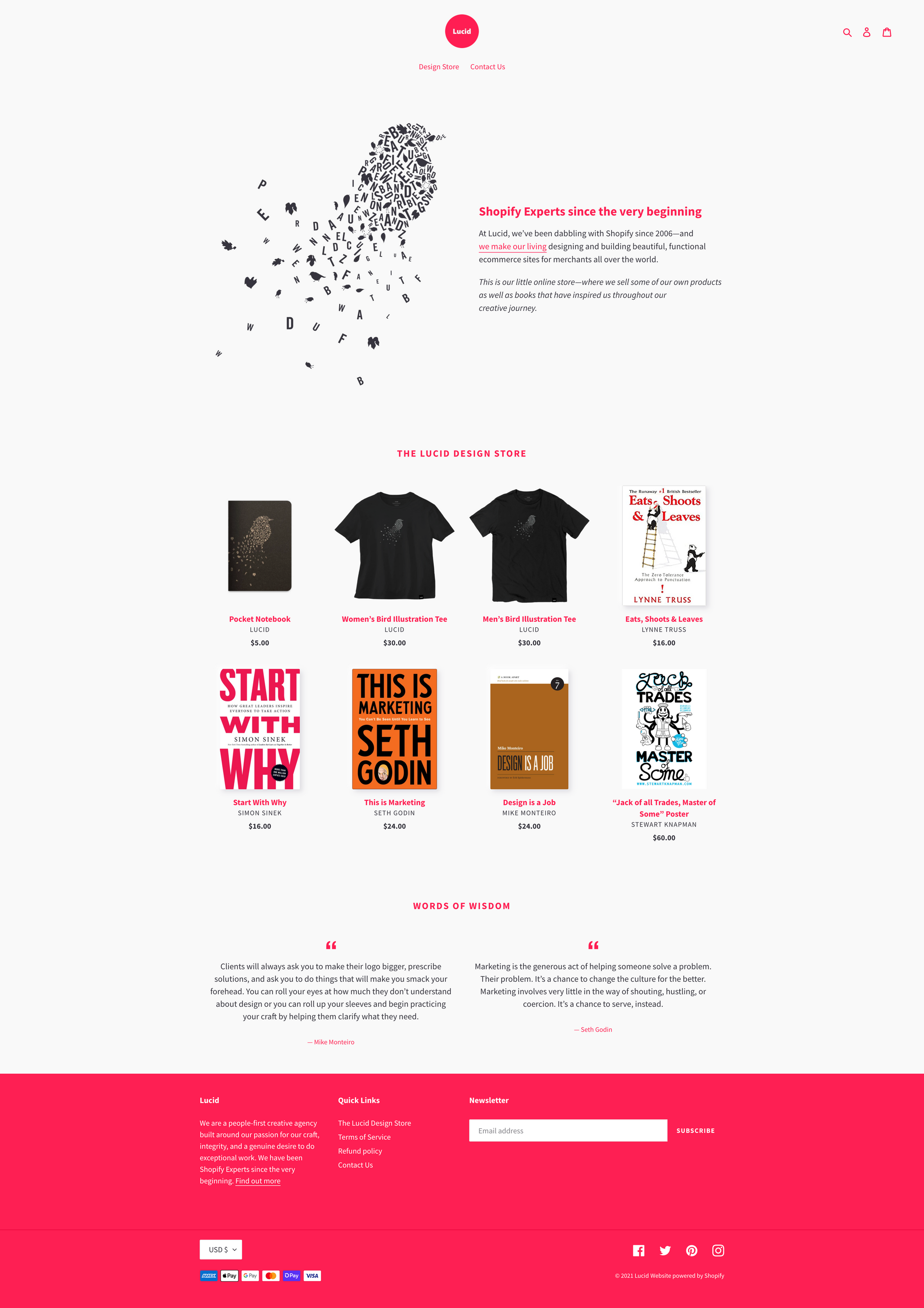 What I have learned so far
3PLs
I am using ShipBob as a 3PL—because I've heard good things, some of our clients use them, and I wanted to kick the tires. There is certainly a learning curve on the self-service plan we are on—due to our low volumes. I'd definitely recommend them but be sure you pay attention to every email—especially when it comes to unallocated inbound stock. It can get expensive quickly if you don't take prompt action.
T-Shirts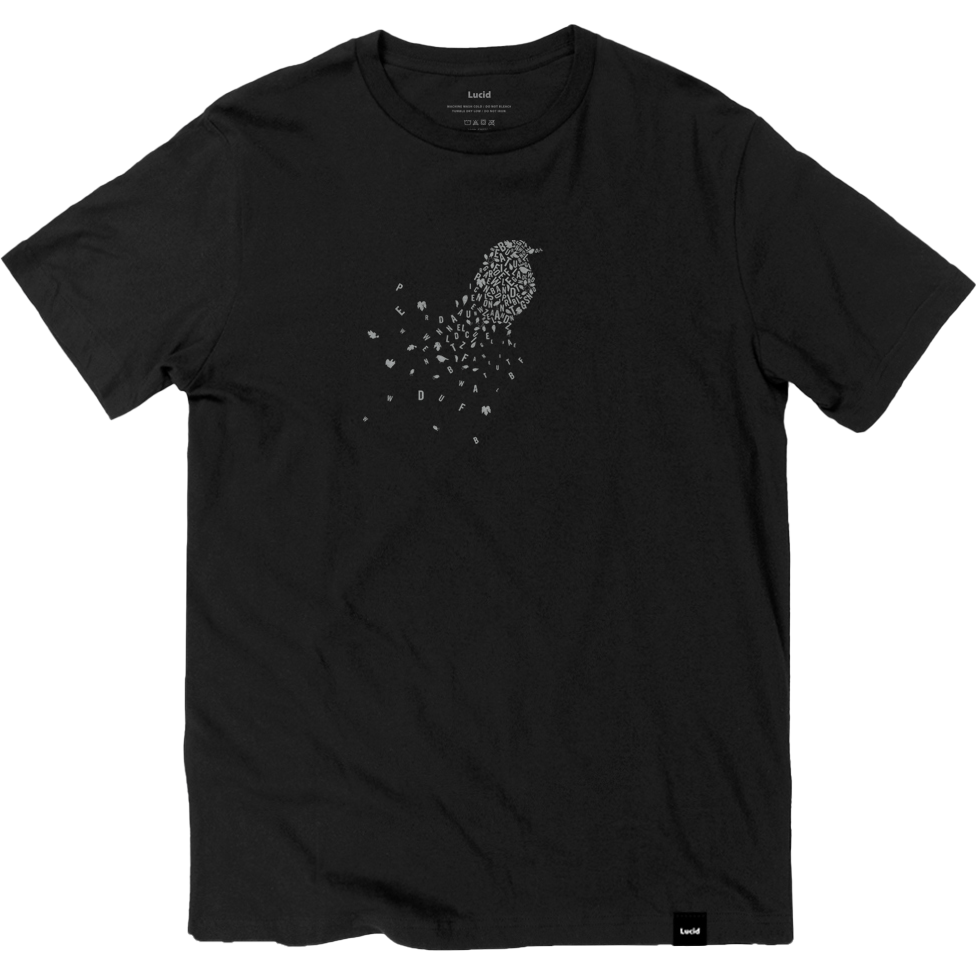 Our tees are sourced from AS Colour—a fantastic New Zealand company who we've been using for over a decade!
I have AS Colour tees that are 7 or 8 years old that are still looking good and still holding their prints.
But, just to be sure that I was making a good decision and sourcing the best quality garments, last year I ran a little multi-variate AB test on t-shirts to see which are the best.
I ordered 1 each of black and white from Next Level Apparel, American Apparel, Bella + Canvas, and AS Colour and alternated with wearing them everyday for over 6 months.
They all held up reasonably well but Bella + Canvas do seem to wear out and get holes after a few months of regular washing. The American Apparel hold up pretty well but not as well as Next Level Apparel or AS Colour. The AS Colour are hands-down the best t-shirts, though—in terms of quality but also in terms of style and comfort. They're fantastic.
Screenprinting, printed care tags, and embroidered hem tags
I spent a fair bit of time looking at some pretty great printing companies and settled on Real Thread.
They have been an absolute pleasure to deal with—from their live chat support to the account manage you get assigned once you become a customer.
They were patient as we worked through a few iterations of the design getting everything set up correctly and were able to remove neck tags so we could custom print our own care labels as well as sourcing and applying embroidered hem tags.
They also sourced the garments from AS Colour directly and handled everything on my behalf.
I am super happy with the quality and the service and look forward to printing additional designs in the future.
Custom notebooks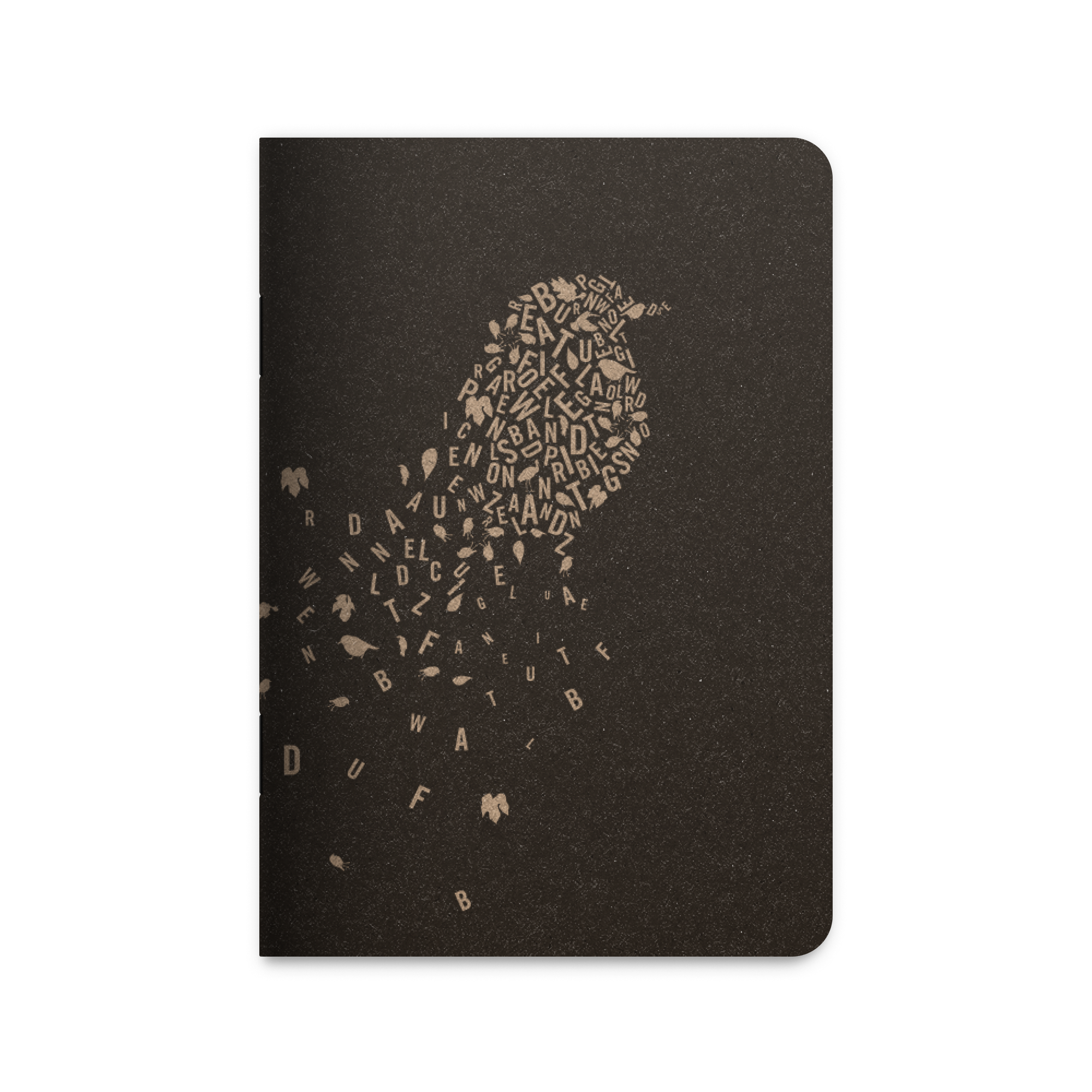 The notebooks are produced by the wonderful folks at Scout Books in Oregon.
I've been a fan for years and have used them before for small runs of custom notebooks for giveaways.
They are always a pleasure to deal with and go above and beyond.
(For those who are interested, there's a little animation showing how these mockups were created in Figma.)
What's next?
In the spirit of continual learning, I'm exploring a few other custom products—watch this space!
But what I am most interested in testing next is product photography.
Part of this experiment is looking at ways to automate the day-to-day aspects of running an ecommerce site. And one of the biggest challenges for merchants is shooting consistently great product shots.
So, my next experiment is to send samples of our tees and notebooks to 2 or 3 of the "photo studio in a box" services to compare the results. I will report back in due course.